Corporate portrait photography is one of our most popular services. Over the last fifteen years, James has shot thousands of portraits for companies, varying from staff shots for websites, to director's portraits for annual reports and press releases. Over this time, James has developed a style of approaching business portraits that has attracted the likes of clients such as Audi, The University of Northampton and The Prince's Trust.
If you're reading this, you're most probably either looking for a corporate portrait photographer, or you are a photographer that wants to shoot business style portraits. Whichever one of those you are, this article will be of interest, as we're going to walk you through our approach. But if you'd rather just skip to the results, you can click here to see our full portrait photography portfolio.
One of the most important things that is often overlooked when approaching a business portrait shoot, is brand understanding. Knowing about the company you are shooting for is critical if you really want the images to work for them. Taking some time to look through a company's website and existing imagery will greatly improve the suitability of the images you shoot. For example, an established corporate law firm looking for staff shots will most likely want a different style of image to a young creative agency. But sometimes it's not so straightforward, so it's always worth doing your homework.
Another important consideration prior to a corporate business shoot is logistics; especially if you are shooting for a company with a large number of staff. What are the odds that everyone is going to be in on the day you turn up to photograph 100+ staff at a company's offices? I'll tell you: zero. Working with a contact at the company allows you to pick out the best days to shoot. Often this can involve running the shoot alongside an AGM where everyone will be attending, or perhaps, splitting the day into two halves. Also, make sure you have a schedule put together in advance. This will come in handy on the day, particularly when checking if anyone has been missed.
Another part of organising a corporate portrait shoot is of course the location. Nine times out of ten, a company will want staff shots taken at their offices. This is usually easiest for both the photographer and the company as it reduces disruptions to productivity. But do they have the space? Sometimes, companies with smaller teams or no premises will want to shoot on location or in a studio (a day in the studio is great fun and can be a great team building experience). Again, look at their market and current branding and advise them on what you think will work best.
Clients may also ask for advice on what to wear. If you've researched the company well enough, you'll have a vision of what clothing will best represent them. The most important thing is to make sure your message is relayed to everyone who is having their picture taken. The IT guy at a global bank may love his Tie Dye shirts, but how would that portray the company's image? It's also a good idea ask everyone to bring a couple of options and, if you're shooting corporate headshots, have a nice tie on hand in case someone forgets to wear one. Someone always will.
On the day of the shoot make sure you arrive in plenty of time to get set up. Things can often change on the day, so make sure you take extra kit to cater for any other requests. You'll be pretty screwed if you turn up with a 1.5M wide background to shoot the headshots you've had in the diary since last month, if the company bosses suddenly decide they want a group shot of the board of directors as well. And no, the answer is not the get them to give each other piggy backs.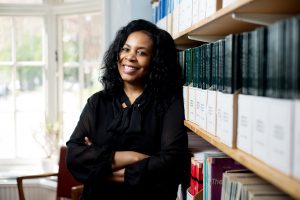 It's often easy to forget, particularly when photographing large numbers of staff, that this is first and foremost a portrait session. Even if each sitting only lasts a few minutes, take the time to have a quick chat with each person you photograph and try to make them feel relaxed. Lots of people find having their picture taken quite nerve wracking and you'll notice that the most nervous often enter the room saying "I hate having my picture taken!" Spend a moment to make sure they feel comfortable or at the very least look comfortable! They won't thank you if the picture of them that ends up in the entrance lobby looks forced and unnatural.
Once James has shot all of the required images, he will usually make a quick note of the setup before packing the kit away, listing all the settings, distances and modifiers used at the shoot. Then, when back at the office, this is scanned in and archived with the client's images. The idea behind this is that if the client calls up a year later, after a couple of the staff have left and new team members have joined the company, an identical setup can be used to photograph the new starters so the images will match perfectly with the existing ones. This can be done without making notes, but it saves a lot of time if you have it all written down (especially if your memory is as bad as James').
When all of the shots have been backed up and retouched, the next step is delivery. Many companies will have their own FTP server, so it's a good idea to ask for a login account to be created for you while you're there. If they don't have their own, the next best thing is Dropbox, as many people will have used this before but it's straightforward enough to use if they haven't.
So there you have it, a brief guide to shooting corporate portraits for businesses. If you're looking for a photographer to shoot portraits for your company, click here to see some of our work. Or if you arrived at this article looking for some tips, feel free to ask any questions in the comments section below.
Thanks for reading! Below are a few examples of business portraits and staff headshots we've taken- feel free to browse our full portfolio if you like our work!