Top Secret: Portraits of MI5 BOSSES
Mi5 spies: Headshot company photographer, james kenny, writes about his shoot with two former mi5 director generals.
I'm a big fan of James Bond and anything to do with espionage, so when a brief landed in my inbox and I read the words 'MI5' and 'Director Generals', I was pretty excited. After reading through the email, I half expected my Mac to self-destruct. Thankfully, it didn't.
The commission was to shoot portraits of two former MI5 heads; Sir Patrick Walker, who over saw the Service through the end of the Cold War and Baroness Manningham-Buller, who led the counter-terrorism section before being appointed DG in 2002.
As a portrait photographer, I have my preferred way of lighting subjects, but often, it just won't suit the person or brand I am working for. This job however, was crying out to be shot in my favourite style.
It's a very simple way of lighting portraits, named after the artist who famously used it in most of his; Rembrandt. It requires just one (carefully positioned) light, which falls off to cast dramatic shadows. It's kind of like 'lighting with shadows'- it's not just about where the light is, it's also about where it isn't. Given my subject's backgrounds, the last thing I wanted to shoot was an bog standard, evenly lit, corporate-looking portrait. I wanted to subtly create a sense of mystery and drama.
I know it's very cliché, but for some inspiration I dug through my DVD collection and flicked through my copies the BBC show Spooks. One of the covers (series nine if you must know) jumped out at me and became my starting point for creating these portraits. There were two things that I particularly liked about the artwork on the cover; firstly, there is a blue colour cast which adds a bit of drama and secondly, the minimal, shadowy lighting on actor Peter Firth who played Harry Pearce in the series.
At this point, I was certain on how I would light the portraits, and was also pretty sure I wanted to include some blue, but I had no way of controlling what the people I was photographing would be wearing, and didn't want to fully commit by using a blue background in case I changed my mind when I started shooting.
I decided that the best way to go forward would be to use a neutral coloured muslin backdrop. That way, I had the options of either gelling the lighting, adding the blue cast in post, or I could 'cool down' the white balance in camera. I decided to go with the latter.
I wasn't too keen on gelling the lighting because, if I changed my mind during the shoot, it would be a hassle to take off the soft box and remove the gel. Adding in post would have been fine, but I like to be able to preview as close to the final image as possible when I am shooting, and I'm not a fan of being tethered to a computer unless I absolutely have to be. Using the D800's manual white balance options, I dialled in 2700K, which turned out to be a pretty good guess, as I didn't have to make any white balance adjustments to the RAW files in post at all.
To light the portraits, I used a single Bowens Quad head with a 2400 pack. The modifier was a 170cm octobox. As I knew that I would be shooting almost wide open, I had taken some ND filters in case I couldn't get the power down low enough on the pack but in the end they weren't needed.
Here are a couple of pictures from the shoot: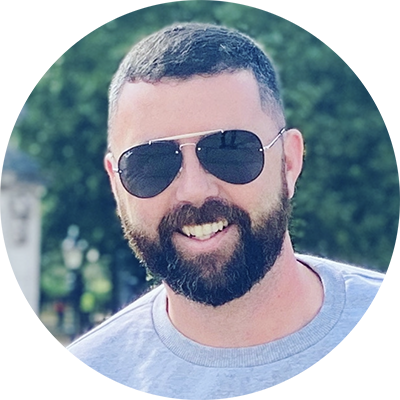 ABOUT THE PHOTOGRAPHER: James Kenny
Photographer & Founder of Headshot company
James is a multi award-winning photographer who has been commissioned to work in more than fifty countries since he started freelancing in 2001.
His client list includes some major names, such as Mercedes Benz, Audi, BBC, NHS, Tesco, Shell, Kier, Bovis Homes, Barclays, Nationwide, Etihad, Emirates and Gulf Air.
In 2016 James set up Headshot Company with a view to providing high quality commercial level portraits and headshots to smaller companies and actors. 
James lives in Thrapston, Northamptonshire, with his wife, two sons and cockapoo.